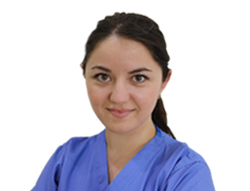 MS DANA MARINA GHIDOARCA
Dental Nurse
National Diploma in Dental Nursing NEBDN 2017
GDC NO. 269337
Dana began her training as dental nurse with us September 2015, and qualified from Glory House Learning Centre in Wembley in April 2017, she is an integral part of our team.
Dana is a competent and caring Dental Nurse. Her thoughtful and friendly manner puts all our patients immediately at ease. Dana strives to make sure our patients are as comfortable as possible throughout their treatment.
Dana is also multilingual and in her free time she enjoys reading, traveling and spending time with her family.